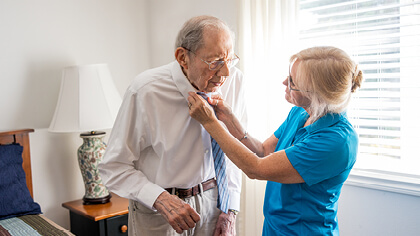 Your Investment
Right at Home chooses to partner with people who come from a wide variety of educational and professional backgrounds. For some, this is their first venture into ownership. Others have run successful businesses before. One thing we do not require is healthcare experience as our training specialises in teaching this business to those without healthcare expertise.
Experience and Skills
We recruit people who have management and basic business experience, because we need franchisees who understand the value of a good system. Our operating systems are proven to help local Right at Homeowners grow their business. You must embrace them for success within the company and your community. And you must be comfortable implementing our marketing system throughout your territory. This includes visiting dozens of potential referral sources throughout your community every week.
Ownership Criteria
Have the Appropriate Amount of Funding to Start a New Business
Are Willing to Dedicate Themselves Full-Time to Building the Business
Have Experience in Managing Employees
Are Motivated By a Sincere Passion for the Home Care Sector
Financial Requirements
In addition to our initial Franchise Fee of €45,000 plus VAT you will require working capital to successfully operate one of our franchises. Working capital costs for any franchise business vary upon location, rate of growth and numerous other factors. Typically you will need between €100,000 and €150,000 to cover the Initial Franchise Fee and working capital and these costs will be discussed with you in detail during the Research and Qualification process.