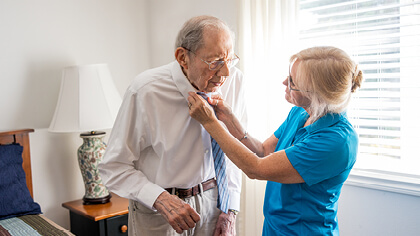 Support
Right at Home makes the commitment to each of our Franchisees Owners to share our experience–based knowledge and to provide them with as many tools and resources as possible to create a successful home care franchise business for the elderly and disabled adults in their territory.
Staff Development
It takes a special kind of person to deliver the care we demand for our clients, so we provide:
Recruitment and selection systems that help you hire friendly, trustworthy caregivers.
Comprehensive Induction Training programme, which is continuous and covers caregiver training in areas such as Food Hygiene, Health and Safety, Moving and Handling and First Aid.
Ongoing Support
At every stage of your business development, you'll have access to a team of experienced specialists that can help guide you through any situation.
RightStart Program
In the early stages of your business, you'll be included in our RightStart Program. You'll have a dedicated person assigned to you to answer all of your initial questions as a new franchisee.
Strategic Support
After leaving the RightStart Program, we provide ongoing support. You'll always receive personal strategic support that's scaled to your individual needs and business size.
Ongoing Training
Right at Home provides numerous opportunities every year for our Franchise Owners to receive additional training in running their businesses. These come at numerous times throughout the year and in several forms:
Local Meetings
Annual Strategic Planning Meetings
Periodic Conference Calls