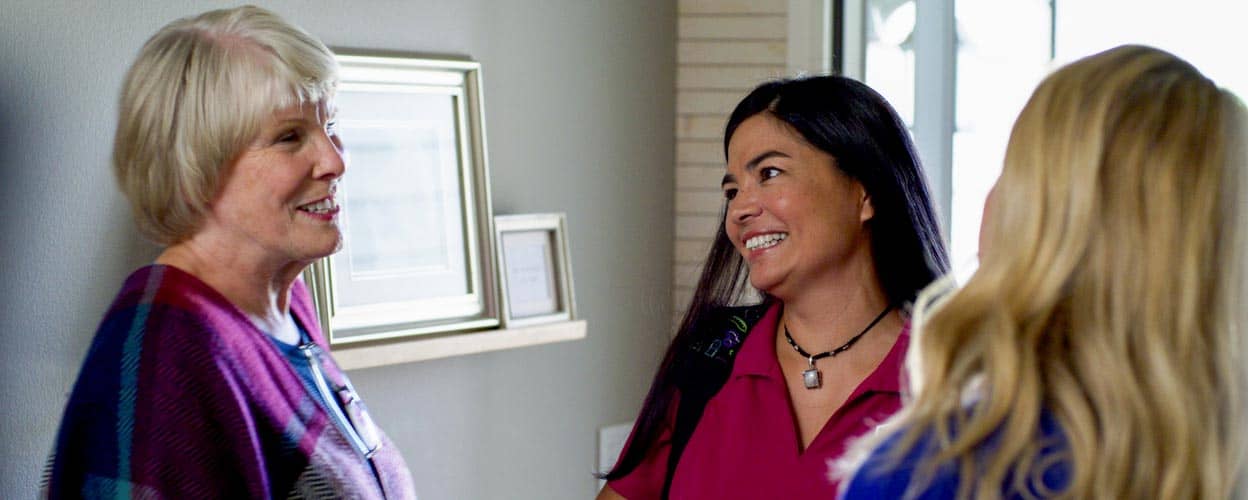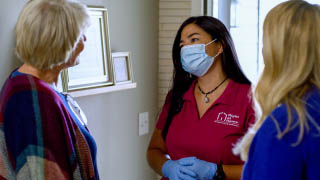 Getting Started
Initial call
From the moment you call, we begin considering you and your loved one's specific needs. On the initial call, we ask questions to form a basic needs assessment.
After the call, we set up an in-home visit with you and the rest of your family – including the family member who may ultimately benefit from our care. This visit allows us to gather even more information, answer questions and let you understand further how Right at Home can help.
Personalised care plan
With Right at Home you will always know what services are being provided to your loved one. After our initial meeting, we develop a Personal Care Plan. This plan is tailored to your loved one's specific needs.
We make detailed recommendations on exactly what kind of services we feel we can help with. We then provide you with a copy of the Personal Care Plan and ask you to review it and confirm you are in agreement with its contents.
Carer matching
Once you approve the Personal Care Plan, we begin our search for the best person to implement care. We take numerous factors into consideration: the services needed, your loved one's interests and the personalities of both your loved one and the carer.
Our process of matching carers to clients takes numerous factors into consideration.
By looking at the whole situation, we're better able to provide your loved one with the best carer possible. Where possible we organise introductions ahead of care starting and of course, if there are ever any concerns about a specific carer, we can search for and provide a replacement in very little time.
Care supervision
Our carers keep extensive notes about the care they provide. Those notes are kept at your loved one's home and are available to read at any time. Our billing system also provides a detailed description of the services and care we have provided.
In addition to this our office owners and managers make regular unannounced spot checks during visits, to ensure carers are following the specifics of the Personal Care Plan, maintaining our high standards of care and responding immediately to any changes in your needs or circumstances.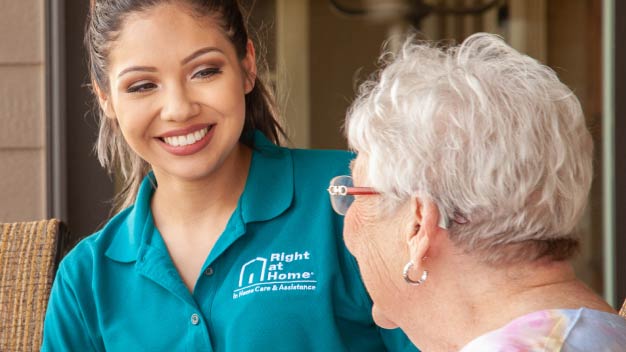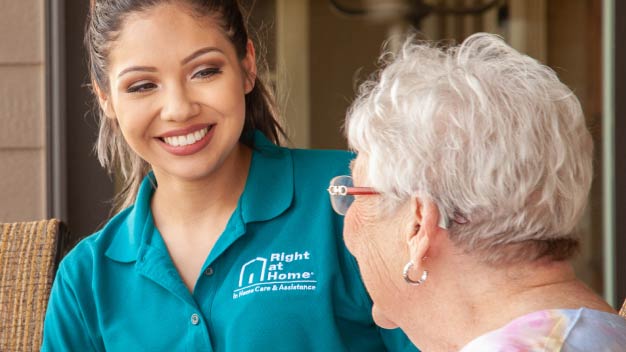 "Working for Right at Home is wonderful - I've got to know my clients so well and I've got the time to help them do the things they enjoy. To see the impact this can have on their quality of life is amazing. We have a great time together!"
CW
"Working for Right at Home is very rewarding. I get to look after vulnerable people who need care and I've made strong bonds with the clients I work with regularly, which makes the job even more enjoyable. They have a great team who are there to support me whenever I need it and I feel that they really want to help me fulfill my potential as a carer."
G.H.
"This is the first time I have needed care and I was unsure what to expect. Thank goodness I chose Right at Home. Gail is an excellent ambassador for the firm - pleasant, polite and professional at all times. Gemma, to me, is the epitome of what a carer should be. She is a very hard worker and always has a smile on her face."
G.R.
"This was my first job in care and I was nervous about the responsibility it involved before I started, but Right at Home gave me such good training and my Registered Manager is always at the end of the phone if I need help or advice, or just a bit of reassurance. I've recently also finished my NVQ and had specialist training in dementia, which has really helped me to understand my clients' needs."
K.D.
"The service I've received from Right at Home has been excellent; the staff always listen and really do fulfill their promise to go the extra mile. Their dedication is excellent."
K.M.