HCCI Nurse of the Year - Geraldine Tabb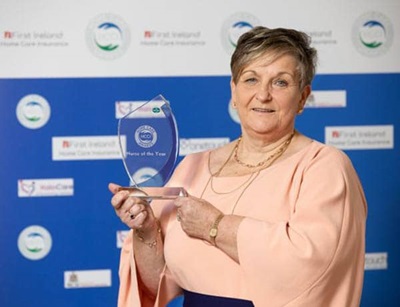 We are delighted to announce that our Nurse Geraldine Tabb was announced as the winner of the HCCI Nurse of the Year award the inaugural Home and Community Care Ireland (HCCI) Home Care awards event in the Shelbourne hotel, Dublin.
A panel of independent judges – TV presenter & designer, Brendan Courtney; Professor Thomas Kearns, Executive Director, Faculty of Nursing & Midwifery, RCSI; Katie Sloan, CEO Leading Age, USA and Sandra Tuohy, Assistant National Director, Operations and Services for Older People HSE - chose Geraldine as the winner.
According to the judges Geraldine demonstrated exceptional care, compassion, commitment and courage.
Professor Thomas Kearns, Executive Director, Faculty of Nursing & Midwifery, RCSI said, "Care provided by HCCI members has the opportunity to deliver health services that integrate person centred and evidence based professional care, while delivering on national health policy, focused on outcomes. In my opinion the nomination of Ms Tabb described the embodiment of this integration in professional action."
Geraldine said, "I would like to thank all the team at Right at Home who nominated me and to the judges who deemed me worthy of such an award. The team at Right at Home are absolutely fantastic. During the pandemic we all worked together and we pulled together. We had our ups and downs but we did get over them as a group and I think we all know here that team work is dream work. So I would like to say thank you to each and every one of our staff and especially to David who is a wonderful leader and treats all of the staff with dignity and respect."
Keith Gill, Director of Health Care Insurance, First Ireland said, "We are delighted to support the inaugural HCCI Home Care awards. HCCI members and their teams of carers, coordinators, managers and nurses have been on the frontline during the pandemic and have given so much to their clients and communities. They wholeheartedly deserve this recognition."
Joseph Musgrave, CEO, HCCI which is the representative body for home care providers and advocates for home care services to be made available to all on a statutory basis, said, "Heartfelt congratulations to Geraldine Tabb of Right at Home on winning Nurse of the Year. We are very lucky to have people like Geraldine working in homecare. Her commitment and courage makes a real difference to care clients and her colleagues and she should be very proud of her achievement."