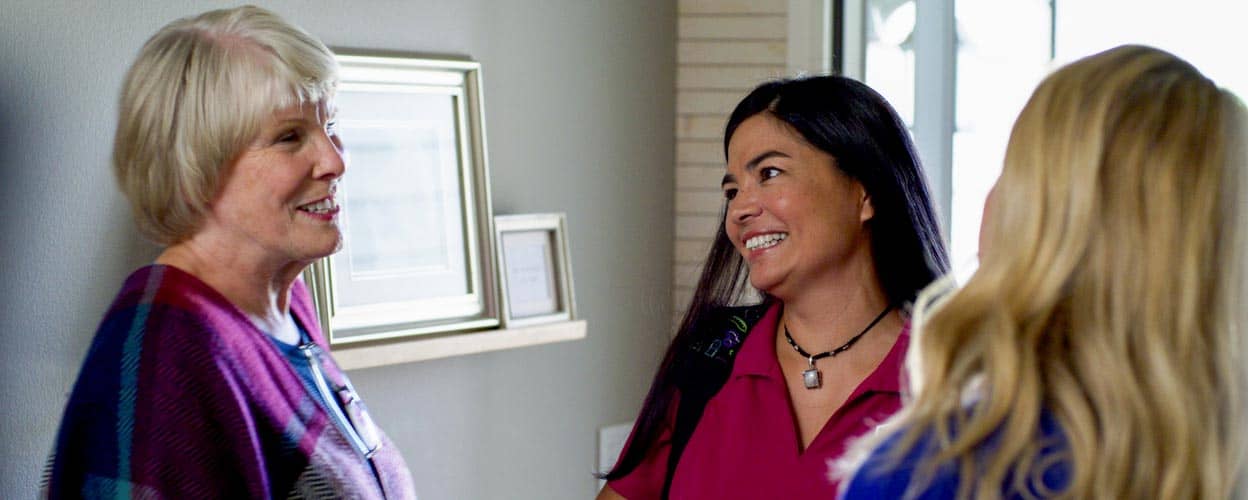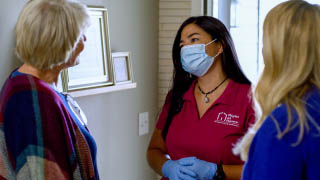 Companionship Care and Homemaking
A Little Help Goes a Long Way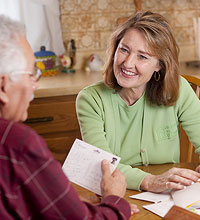 Often a smiling, helpful professional care provider is all that is needed to get the day started off just right. For early birds, assistance with showering, a medication reminder, preparing a good breakfast, and taking a walk while having a cheerful conversation can all help a loved one to continue to thrive while living independently at home.
Some may prefer assistance later in the day, desiring socialisation and support around the evening meal. Whatever the case, a little structure in each day helps people to feel more positive about their lives, and scheduling daily tasks, as well as fun and stimulating activities, is essential to fostering independence and maintaining cognitive abilities.
For those whose loved ones live remotely or have limited opportunity to visit, a Right at Home companion would be just the right person to help fill the hours at home during the week by building an enjoyable, positive and meaningful relationship with a new client and friend. Their "fun" could be happy chatter while baking, talking about current events, keeping up on favourite sporting events, having a cup of tea and reminiscing. Some examples of the many things we do:
Light housekeeping tasks
Plan the weekly menu and make the shopping list together
Meal preparation
Monitor diet and nutrition
Fun things like help writing letters or emails to friends and relatives
Care for house plants and pets
Experience shows us that our clients look forward to and enjoy the time spent with their companion. For those needing a higher level of physical assistance, our personal care services may be appropriate. Whether we are providing companion care, personal care, or any of our specialised care services, our goal is to help every client have a good day, every day.
If you would like to learn more about Right at Home's companion care services, please call us at 01 495 4030 or contact usand we will be glad to help.
Companionship Care and Homemaking

Help You Need, Right at Home
Maybe you've noticed Mum and Dad's house starting to decline: counters are dirty, shelves undusted. Or perhaps your sister's health is waning; she's growing older and forgets to take her medications. Whatever the signs, you're beginning to wonder if your loved one needs help around the house. Companionship care and homemaking offer just that: nonclinical assistance for those who need it, without leaving the comfort of home.
What Is Companionship Care and Homemaking?
From doing the laundry and taking out the rubbish to reading out loud or playing cards, professionals in companionship care and homemaking serve as another body within the home. They're available to help remind patients when to take their medications, keep up around the house and even drive someone to a hair appointment. Both services differ slightly in how they work.
Companionship Care
The purpose of companionship care is to offer company and friendship. Companions may help with certain household chores, such as laying out towels before a shower, but their primary purpose is to spend time with the patient. Grown children may want to hire companions to keep an eye on their ageing parents, for example. Some of the services offered by companionship care include:
Transportation
Reading a book aloud
Playing games
Accompanying the patient for a walk outside
Letter writing
Monitoring the home
Homemaking
Think of homemaking as an addition to companionship care. With a homemaker, patients will receive all the benefits of a companion—such as transportation—but with added bonuses. Homemaking extends to include tasks such as cooking, cleaning and even grocery shopping. Some of the services offered by homemaking include:
Laundry
Cooking
Taking out the bins
Light housekeeping
Organisation
Respite care
Benefits of Companionship Care and Homemaking
From taking away loneliness to ensuring proper nutrition, companionship care and homemaking have many benefits for patients. If you suspect your loved one isn't eating well, for example, having a homemaker available to cook nutritious meals can turn around your family member's health.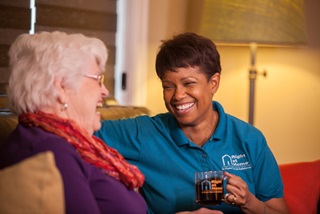 Here are just a few of the benefits these services offer:
Mental (cognitive) stimulation
Increased mobility due to transportation services
Socialisation
Improvement in health, both physical and mental
Safety supervision
We Can Help
When you call Right at Home, one of our professionals will visit your loved one's house and provide a free assessment to determine your needs. Our professionals are very flexible and will partner with your family to determine the best schedule for companionship care and homemaking visits. Curious to see how we can support your loved one in the comfort of his or her home? Contact us today.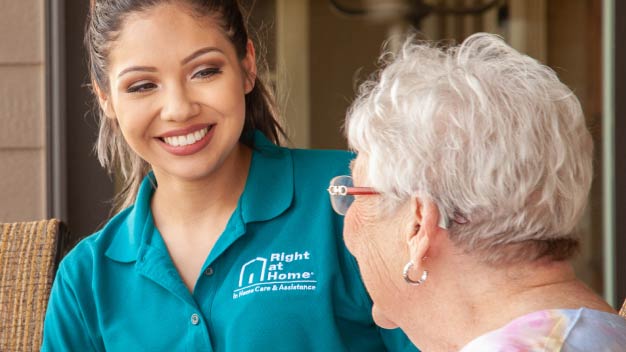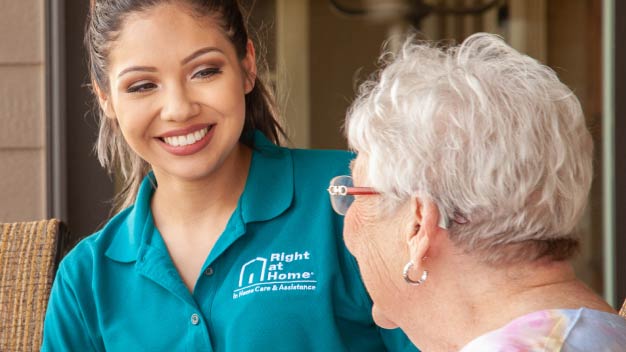 "Working for Right at Home is wonderful - I've got to know my clients so well and I've got the time to help them do the things they enjoy. To see the impact this can have on their quality of life is amazing. We have a great time together!"
CW
"This is the first time I have needed care and I was unsure what to expect. Thank goodness I chose Right at Home. Gail is an excellent ambassador for the firm - pleasant, polite and professional at all times. Gemma, to me, is the epitome of what a carer should be. She is a very hard worker and always has a smile on her face."
G.R.
"Louise is an absolute star who consistently goes the extra mile. She is calm and efficient and happy to deal with whatever arises. She has formed a real bond with mum and I have every confidence in her – she has not only made my mother's life considerably easier and more content but mine too, as she has saved me from hours of worrying!"
J.F.
"The service I've received from Right at Home has been excellent; the staff always listen and really do fulfill their promise to go the extra mile. Their dedication is excellent."
KM
"Thank you for your professional service. Wendy was great, had a super attitude, and could not have been more helpful."
P.H.