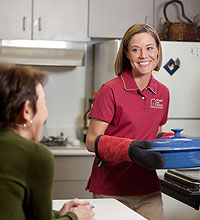 Any Time You Need Us
Personal and family health emergencies can arise at a moment's notice, making it necessary to drop everything, evaluate the situation and determine the best course of action.
Right at Home will be there for you, to provide whatever in-home care services may be necessary or helpful while you and/or family members navigate through the issues at hand. We can have a qualified care professional at your home at short notice to provide care for up to 24 hours a day.
Short-Term or Long-Term Care Services
We are able to provide Live-in care for any period of time, from overnight to a few or seven days a week, as well as on a long term basis. As always, we select care professionals who provide the best possible fit, based on a client's needs and personality but you will make the final decision by meeting and interviewing the proposed carer. Our goal is to create a warm, trusting and comfortable relationship between our caregivers and the clients they serve.
Helping You Stay Right at Home
A broad range of services are available for live-in care, from meal preparation, light housekeeping, shopping and errands, cooking of nutritious meals, to Personal Care Services and End-of Life care. Our carefully selected, experienced and well-trained caregivers have knowledge and experience in many different areas of in-home care and as needs change our one-to-one care has the flexibility to evolve with you.
Live-in care can be provided to:
Clients who need help throughout the day and reassurance at night
Short-term live-in care, designed to give respite for the family
Breathing space when assessing nursing home options
Support after an illness and on discharge from hospital
If you would like to learn more about Right at Home's live-in care services, please call us at 01 495 4030 or contact us and we will be glad to help.