Right at Home Celebrates International Women's Day
As the world celebrates International Women's Day today, so too has the team at Right at Home, providers of home care across Ireland. Their team of Home Care Assistants have had their walking shoes on bright and early, and have been walking individually in their various counties to mark this day of celebration, especially for their clients who have not been able to leave their homes in the past year because of the pandemic.
In the pursuit to connect their communities and collaboratively forge positive change for women, the Right at Home Staff donned specially designed t-shirts for this global day of celebrating the social, economic, cultural, and political achievements of women as well as a call to action for accelerating women's equality.
To promote wellness and exercise while celebrating International Women's Day 2021, Right at Home staff members have been getting out for a walk since this morning, wearing their t-shirts and taking photos for social media in a bid to raise awareness of this day and do what they can to make a positive difference for women, especially for their clients who have had to stay indoors during the past year.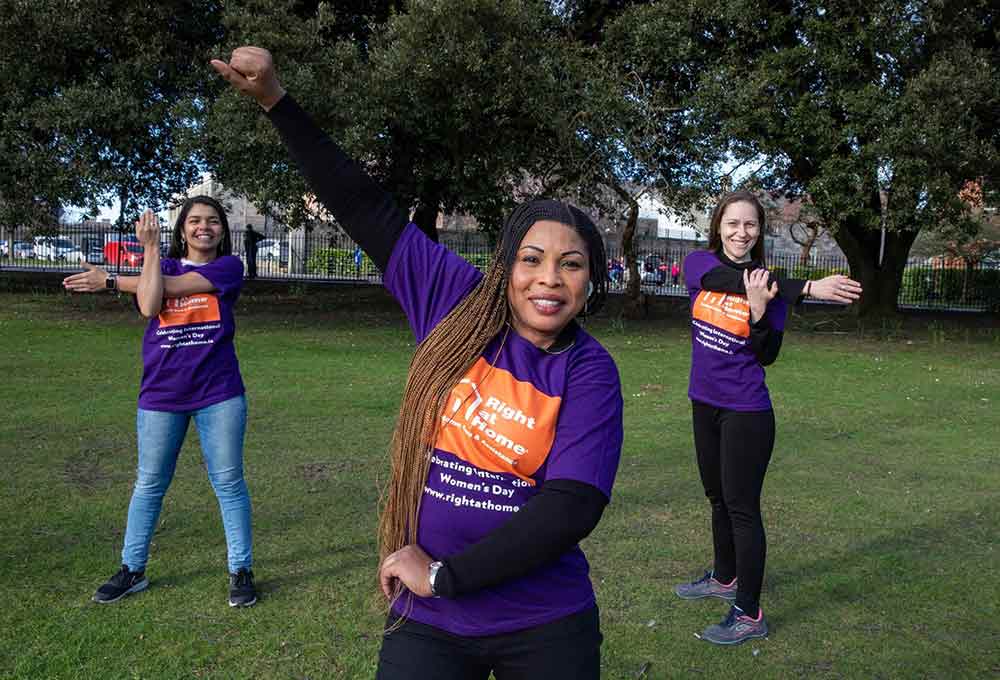 Right at Home, Managing Director, David McKone said, "Even though we are living in extremely difficult times, it's still so important for us to mark the occasion, celebrate women's achievements, raise awareness against bias and take action for equality. Our teams have been doing amazing work over the past year, caring for our clients while they remain in the comfort of their own home during the pandemic and while there's still a tough road ahead, it's great to get involved in celebrating events like this, getting out into the fresh air and doing our part for International Women's Day, a focal point in the movement for women's rights."
Debbie Morone, a Health Care Assistant with Right at Home added, "We are delighted to celebrate International Women's Day and it really forges a sense of community among our branches while raising awareness for such an important day. We are walking for our clients and for those that can't get out and celebrate International Women's Day. Health Care Assistants have been doing phenomenal work over the past year which really hasn't been easy, so I think now more than ever it is important to showcase our solidarity."
Not only are Right at Home taking a "step" for International Women's Day - they are also hosting a number of other events for their staff members across all branches to mark the occasion and play their part in the collective action.
Located in Dublin, Galway, Cork, Kildare, Wicklow, Roscommon & Mayo Right at Home provides quality home care and support for seniors and adults with disabilities.