Edel Robinson Crowned HCCI Manager of the Year 2022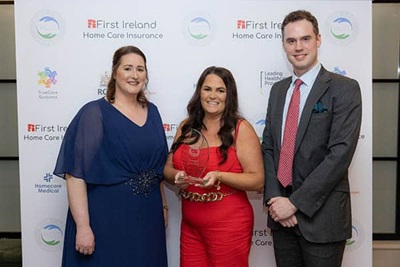 We are delighted to share the great news that our colleague Edel Robinson has been crowned Manager of the Year at the 2022 Home and Community Care Ireland (HCCI) Awards.
Edel has worked with Right at Home in Dublin for over 10 years, initially starting out as a Carer. Over the following years, Edel worked her way up through the ranks from supervisor to senior supervisor, moving to Area Manager and now to her current role; Business Manager of Right at Home Blanchardstown.
Edel's unwavering determination, outstanding dedication and sincere compassion makes her a leader in her field and we are very proud to have Edel as part of our team.
Edel's path to the homecare sector came about when she was caring for a family member who was in and out of hospital. Edel was able to ensure they spent as much time at home where possible. During this time, Edel noticed that many people in hospital did not have family to help them, preventing them from living in the comfort of homes and this is why she decided to become a Carer. Her own experience made her perfect for this career move: passion, dedication and kindness is what it takes to be one of the best and Edel has all of that in abundance.
Having been a Carer, Edel is well placed to appreciate and understand what her colleagues and clients are going through, yet in her role as Business Manager, she is constantly upskilling and learning.
Dave McKone, MD of Right at Home Ireland has praised Edel for her outstanding contribution, commenting, "We are delighted to see Edel awarded Manager of the Year and it couldn't be more deserving. Edel is a fantastic team member and constantly ensures the highest standards are set to care is provided to clients. Her delegation skills are meticulous and precise while nurturing a great relationship with all. Her leadership skills are all-encompassing, determined to bring her team along with her. During the height of COVID-19, Edel demonstrated massive resilience and took complete ownership of the service, even dropping off PPE to her team during the weekend - that is just one example of her leadership and there are many!"
Edel has often been described as a shining light on the darkest of days, making people smile with her light humour and assisting people wherever she can. For all of this, and more, it certainly makes her a worthy winner of this year's Manager of the Year!